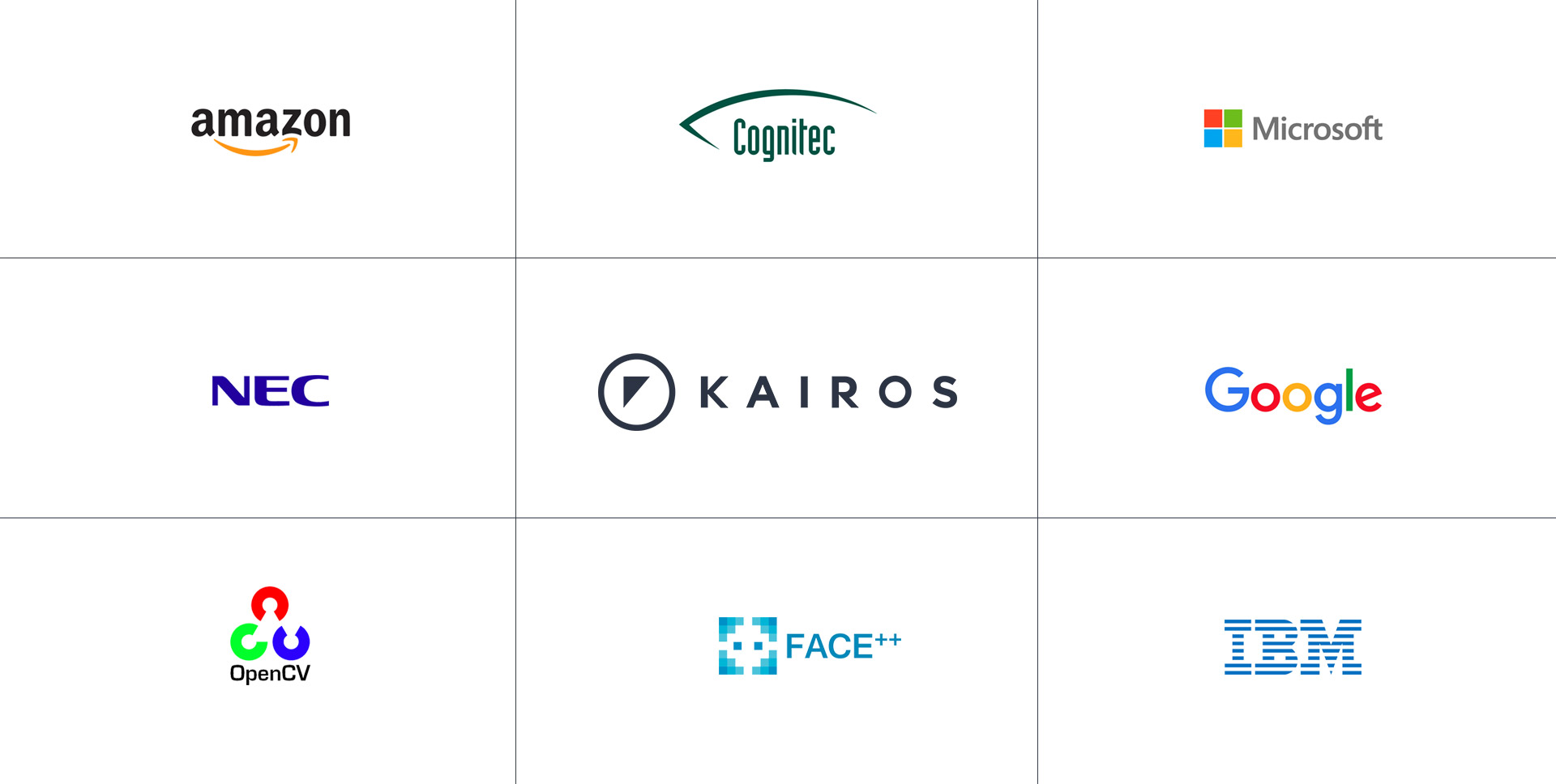 Everyone is talking about face recognition and there are a lot of different companies and products out there to help you benefit from it. With some of the biggest brands in the world rolling out their own offerings, it's an exciting time for the market.
Yet, if you're researching face recognition providers it makes it all the harder to know who's the right fit for your needs. And we believe you and your business deserve the best facial recognition partner - it's actually a mission of ours. Throughout 2017 we will be sharing our in-depth guides to making the most of face analysis, and why it should be at the heart of your business.
Comparing Kairos
To help you decide if Kairos is the right choice for you, I've put together a side-by-side comparison of the best face recognition services on the market. At first glance it may be surprising to see that Kairos offers more than larger household names in technology:
| | Kairos | Amazon | Google | Microsoft | IBM | Affectiva | OpenCV |
| --- | --- | --- | --- | --- | --- | --- | --- |
| Face Detection | | | | | | | |
| Face Recognition (Image) | | | | | | | |
| Face Recognition (Video) | | | | | | | |
| Emotional Depth (%) | | | | | | | |
| Emotions Present (Y/N) | | | | | | | |
| Age & Gender | | | | | | | |
| Multi-face Tracking | | | | | | | |
| SDK | | | | | | | |
| API | | | | | | | |
| Ethnicity | | | | | | | |
Unlocking the power of face analysis for your business
We appreciate that it's not just product features that help you choose your next software partner - things like price, reliability, performance, reputation, support, and ease-of-use can all be deciding factors.
So, let us show you how we stack up with a deeper dive. I'm sharing insights here based on our own customer interviews, in addition to our continuous assessment of what is available in the public domain. I hope you find this information useful, and if you have any feedback we'd love to hear from you. Contact details are at the end of this article.
Before we dig in, I'll give you a quick intro to Kairos...
Kairos
OVERVIEW
Kairos' Human Analytics platform lets businesses integrate emotion, identity and demographic data into their products with only a few lines of code.
CORE FEATURES
Face Detection.
Face Identification.
Face Verification.
Emotion Detection (joy, surprise, sadness, fear, anger, and disgust).
Demographic & Feature Detection (age, gender, attention, dwell, glances, blinks, [68] feature points, glasses & ethnicity).
Multi-face tracking.
Face Grouping.
ADVANTAGES
Proprietary face analysis and machine learning algorithms (under constant improvement).
Multiple delivery options (Cloud APIs and offline SDKs).
Long form video analysis.
Large size image processing.
Incredibly small facial templates.
Unlimited face galleries.
Lightning fast results.
Facial feature tracking (this outperforms traditional face detection tracking).
Deeply focused on face analysis.
Privacy and security assured.
Designed to simplify and streamline face recognition for developers.
Innovative business model; free to test and tiered to scale with customer growth.
Round the clock support; rapid response times; integration experts.
COMMENTS
We believe we are the best all round face recognition provider on the market. Our fanatical support, enterprise expertise and industry leadership means you're in safe hands. Kairos removes the stress of integrating a complex software so you can get on with what you do best - running your business.
UPDATE: We've now made it even easier to get started with Kairos. Looking to create a proof-of-concept? Get your free API trial - cancel anytime..
Amazon Rekognition
https://aws.amazon.com/rekognition/
OVERVIEW
Deep learning based image recognition. Part of Amazon's AWS Ecosystem. Based on their acquisition of Orbeus in 12/1/2015, and re-launched 11/30/16.
CORE FEATURES
Object & scene analysis.
Face detection.
Face recognition.
Face sentiment analysis.
CONSIDERATIONS
Maximum number of faces processed in an image is 15.
Maximum image size stored as an Amazon S3 object is limited to 15 MB. The minimum pixel resolution for height and width is 80 pixels.
Maximum images size as raw bytes passed in as parameter to an API is 5 MB.
JPG and PNG only - no video formats are supported.
Limited emotion analysis.
Maximum number of faces you can store in a single face collection is 1 million.
The maximum matching faces the search API returns is 4096.
COMMENTS
Amazon has re-purposed their acquisition of Orbeus as part of their AWS platform and these computer vision features are not their core focus. The platform is deeply coupled to the AWS ecosystem. Non-AWS users will have a tough time trying to implement Rekognition in their products. Amazon Rekognition got called out (in May, 2018) by ACLU over claims of enabling mass surveillance: Amazon Teams Up With Law Enforcement to Deploy Dangerous New Facial Recognition Technology
Google Vision API
https://cloud.google.com/vision/
OVERVIEW
Content analysis. Classifies images & video into thousands of categories. Part of Google's Cloud Platform.
CORE FEATURES
Detect inappropriate content.
Image sentiment analysis (faces).
OCR & automatic language identification.
'Video Intelligence' - Scene, object and 'entities'.
CONSIDERATIONS
Only reports back 34 facial landmarks.
No facial recognition possible.
Submit images over Base64 encoding only.
4MB image max size (Less than 2 megapixel).
10 requests per second max.
20m images per month max.
Cloud API only, no SDK.
Emotion classifiers: joy, sorrow, anger, and surprise. Only with 'likelihood', not intensity.
1-1000 images free per month.
1001-5,000,000 images $1.50 per 1000 images.
2m images / mo = $3000 face detection only and limited emotion detection, no facial recognition possible, no emotion video analysis possible.
If you add additional features, such as logo detection, or image properties, you pay $1.50/1000 * the number of features you ask for.
COMMENTS
A small part of Google's Cloud Platform, with no facial recognition capabilities. Complex pricing, limited by features combos. Suffers from developer perception that, as with other Google services, the Cloud Vision API could easily be discontinued at any time. This reputation derives from Google deprecating numerous SaaS services throughout the years.
Microsoft Face API (FKA 'Project Oxford')
https://www.microsoft.com/cognitive-services/en-us/
OVERVIEW
Image and video analysis on faces. Part of Microsoft's Cognitive Services Platform.
CORE FEATURES
Face detection.
Face verification.
Face identification (recognition).
Emotion detection.
CONSIDERATIONS
API only, no local SDK.
Facial Recognition gallery size limited to 1000.
Only 27 facial landmarks, up to 64 faces max per image.
Emotion videos limited to 100MB max (10 - 20 seconds of video at 1080p resolution, <30 seconds at 720p HD resolution).
Images max size 4MB (Less than 2 megapixel).
Emotion classifiers: anger, contempt, disgust, fear, happiness, neutral, sadness, surprise (no attention).
10 transactions per second for Face API, and Emotion API images.
1 video per minute max on Emotion API, 2/min video status query limit.
"Preview Pricing".
$1.50/1000 calls per month PLUS $.50 per 1000 faces stored in a gallery.
30k free calls per month for Emotion and Face APIs.
Sample customer face recognition = $3004 / mo.
If you add additional features, such as logo detection, or image properties, you pay $1.50/1000 * the number of features you ask for.
Sample customer emotion = $N/A - Maximum video to be processed is 50hrs must first be downscaled and cut into 30 second clips, no pricing available.
Emotion API max 3000 videos per month at $.25/1000 calls.
COMMENTS
Microsoft has a solid face analysis offering for the cloud. But, the service is highly restricted by usage caps and price instability - look out for their "preview pricing", this is due to increase by 50% once generally available. As part of their bigger Cognitive Services platform it also lacks the focus of a dedicated provider. They do have some cute demos.
IBM Watson Visual Recognition API
https://cloud.ibm.com/apidocs/visual-recognition
OVERVIEW
Understand the contents of images. Part of the Watson Developer Cloud.
CORE FEATURES
Face detection.
Celebrity recognition.
Object & scene recognition.
CONSIDERATIONS
Face recognition is limited to only celebrities.
250 images / day up to 5000 images.
Age & gender detection.
COMMENTS
One small component of Watson's vast, growing capabilities. No clear focus on face analysis and highly dependant on IBM's Bluemix cloud platform. IBM Watson's strategy is focusing away from visual recognition versus its core text based analyses.
Cognitec
OVERVIEW
Facial image database search, real-time video screening solutions.
CORE FEATURES
Face tracking.
Face recognition.
Age & gender detection.
Video face recognition.
CONSIDERATIONS
Leading provider of facial recognition software to governments, military, security and gaming sectors.
SDK only, no web API available.
Works well under controlled scenarios such as passport control.
Slow enrollment speed and matching rates.
No emotion analysis.
C, C++, Java, and C# development possible.
Customer support only available to large scale enterprise clients.
Difficult licensing and pricing model.
COMMENTS
Whilst a large player in the government market, Cognetic is a very complicated and expensive product to set-up, use and maintain.
NEC Face Recognition
https://www.necam.com/biometrics/
OVERVIEW
Part of NEC's forensic and security biometrics suite.
CORE FEATURES
Finger & palm-print analysis.
Facial detection and recognition.
Facial recognition on images and video.
They prefer to build complete solutions in-house than license the SDK to integrators or outside developers.
CONSIDERATIONS
No emotion analysis.
No Cloud API.
SDK only, also delivered as a hardware appliance to integrators.
Very difficult to find any information about their SDK.
SDK only, also delivered as a hardware appliance to integrators.
NEC provides very little information about their NeoFace product line, no clear way on how to buy it.
Sales and support departments difficult to engage with.
Provides a very small contribution to a very large corporation, it could get cut at any point.
COMMENTS
A division of NEC based in Japan. Like any ultra-large organization, it's incredibly difficult to get them on the phone or reply to emails. Their products are good, and for years have been considered a major player. That gap has now been closed. They turn away customers who are spending less than 5MM.
Affectiva
OVERVIEW
Emotion recognition software and analysis for images and video. MIT Media Lab spinoff.
CORE FEATURES
Emotion analysis.
Age, gender, glasses, & ethnicity detectors.
Emoji expressions.
7 emotion metrics, 20 facial expression metrics.
Extensive library of labeled emotion training data.
CONSIDERATIONS
Emotion analysis only.
No facial recognition.
Only 34 facial landmarks tracked.
SDK free to use under $1m annual revenue.
Launched a new 'Speech Analysis API' in September 2017
COMMENTS
Affectiva is a very well funded startup and somewhat established player. They have raised $34MM over 6 years and are tightly linked to advertising conglomerate WPP. With a focus on emotion analysis, they do not offer facial recognition. Their academic roots means you can expect lots of scientific jargon and complicated products.
Face++
OVERVIEW
Face analysis cloud services. Built and owned by Chinese computer vision conglomerate Megvii, Inc.
CORE FEATURES
Face detection.
Face recognition.
Emoji expressions.
Face verification.
Face analysis (smiles, age, gender, and limited ethnicity).
CONSIDERATIONS
Cloud API.
'Offline' SDK for limited face landmark detection and comparison. No face recognition. iOS & Android support only.
83 facial feature points detected (106 available in the SDK).
Galleries limited to 10,000 faces each.
Adding a face requires a retraining to take place on the entire gallery.
Recently added 'body' and 'gesture' recognition to their platform - image only and in 'Beta'.
COMMENTS
They primarily operate in China, are extremely well funded (~$150MM), and are known for their inclusion in Lenovo products. Their website can be hard to navigate.
UPDATE
In early 2017, Face++ began to re-brand itself as a 'Cognitive Services' provider - mimicing similar Microsoft, Amazon, and Google services. It's hard to say what their focus will become.
OpenCV
OVERVIEW
Open source computer vision and machine learning software library. Maintained by Intel, formerly Itseez Inc. who Intel acquired in 2016.
CORE FEATURES
Too many to list. They have 2500 optimized algorithms for anything from face detection to tracking objects in video.
CONSIDERATIONS
Complex, hard to use software designed for computer vision professionals only.
Covers a wide area related to computer vision.
Limited depth in relation to face detection / recognition.
SDK only.
COMMENTS
Great for hacking around with computer vision ideas and conducting research. Up to the developer to figure out how to scale it. With poor recognition rates and very few commercial applications, it's training wheels.
Face recognition acquisitions
A number of players have been taken out of the market in recent years, with many having been shut down as part of the purchase terms. It speaks to the explosion in demand for face analysis, and its importance to business strategy. Here, I have compiled a list of all the notable face recognition acquisitions - you may even recognize some of the names from your own research:
Emotient (Apple)
Face.com (Facebook)
Faciometrics (Facebook)
FaceFirst (Apple)
Orbeus (Amazon)
Polar Rose (Apple)
Looksery (Snapchat)
Itseez (Intel)
Msqrd (Facebook)
Viewdle (Google)
PittPatt (Google)
Alchemy (IBM)
RealFace (Apple)
AIMatter (Google)
Regaind (Apple)
IMRSV (Kairos)
So, why choose Kairos?
I asked for a personal note about this from our CEO & founder Brian Brackeen. Here's what he said (I decided to leave it unedited):
Simply put, we empathize with you.

Maybe you're a developer, it's the middle of the night, and you stumbled upon us.
Maybe you're a leader at a company, given a problem to solve.
Maybe you found us weeks ago, and are about to go try to sell Kairos over Microsoft to your boss…

We understand you. We understand the position you are in, and that you may only have one chance to get this right.

That's exactly why you should choose Kairos.

As you have read, we're as fast as anyone, as accurate as anyone, and we can even do some things the competition can't. I think we have made a fair assessment of those facts above.

What we also do, better than anyone else in the world, is understand what you need; when you need it, and how to deliver it. We'll work our tails off, 24/7, to make sure you are successful. Facial Recognition is ALL WE DO. We get up thinking about you, go to sleep thinking about you, and stand in the shower thinking about how we can make our product better for you.

We wake up every day and ask ourselves, "How can we make our customers successful today?"

That's why we answer support emails 7 days a week, that's why you can get me on the phone if you need me. As the CEO of Kairos, I work for you.

You won't find a more committed team than us - I'll put everything I own on that statement. Choose Kairos, because you deserve that level of commitment; a level of commitment that you won't get from any of our competitors.
If you are interested in learning more about Kairos and the benefits of face recognition, or have some questions about this page, feel free to send us a message to This email address is being protected from spambots. You need JavaScript enabled to view it. - we'd love to hear from you.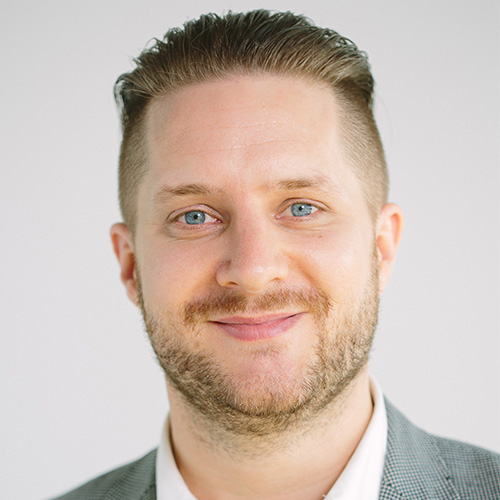 Ben Virdee-Chapman
Ben is the CDO & Head of Product at Kairos, a Human Analytics platform that radically changes how companies understand people.