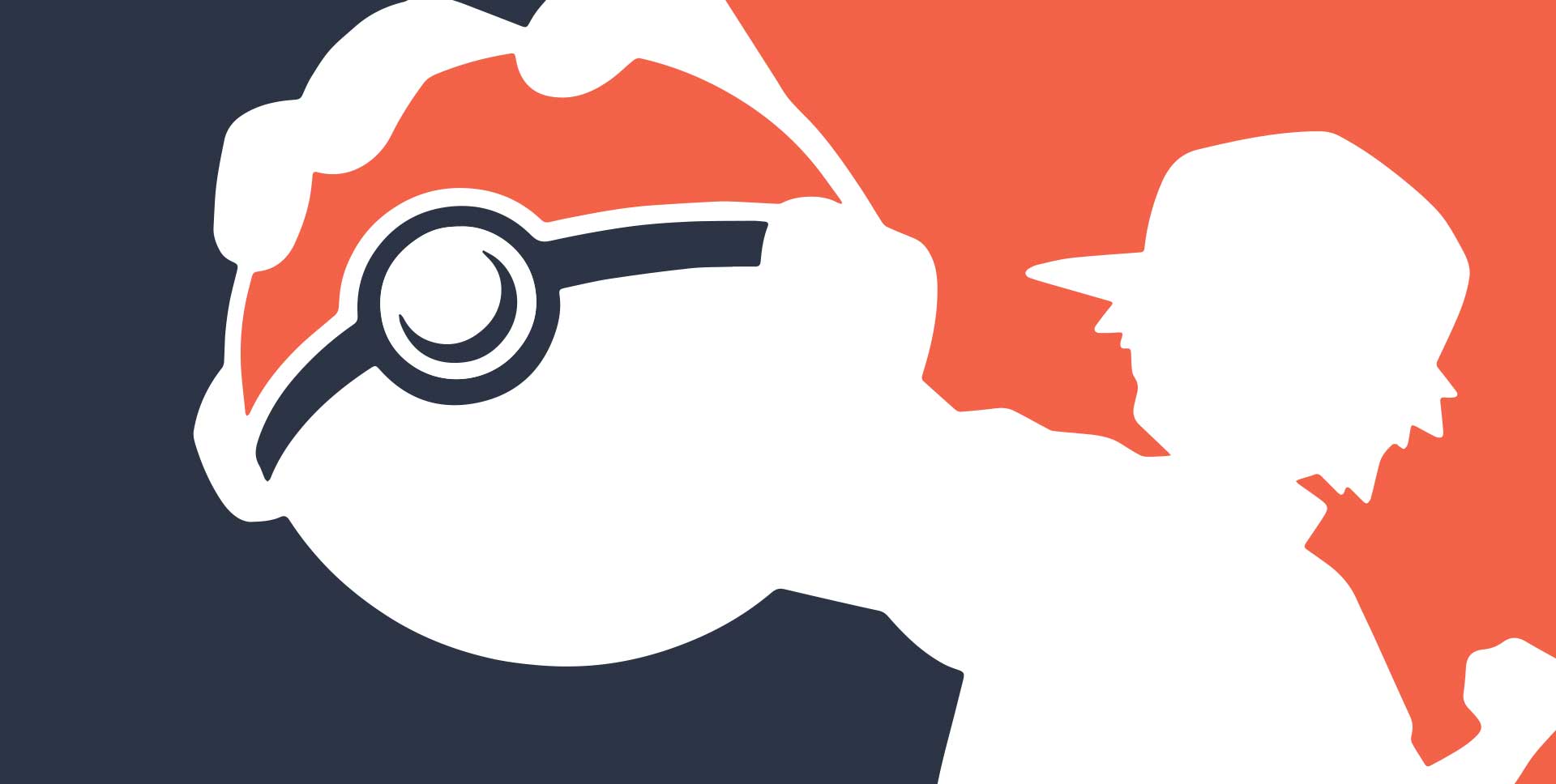 "I will travel across the land searching far and wide [for] each Pokémon to understand the power that's inside" so goes the Pokémon theme song and mantra for Pokémon Go trainers everywhere. Pokémon Go's augmented reality game has taken the world by storm within the last month and while people are trying to 'catch them all', businesses are trying to capitalize on the marketing power this game is offering.
The best way you can make a profit off of Pokémon Go, according to this thread on Reddit, involves your business being located near a PokéStop. If your business is a PokéStop, well you may have hit the jackpot.
PokéStops give goodies to trainers who stop by and refresh every 5-10 minutes. Pokéstops can also have lures, a device that attracts Pokémon to that spot for 30 minutes, placed on them by other trainers. As a business, you can place a lure on a PokéStop near you and advertise discounts for Pokémon Go players who come into your establishment because of the placed lure. This is exactly what companies are doing and, not surprisingly, are profiting. If you were to purchase the highest amount of lures your cost would be $1.19 an hour. Here's how:
$100 = 14,500 Pokécoins*
*Pokécoins are the currency used to make in-app purchases
14500/680 = 21 8-pack Lure Modules
21x8/2 = 84 hours of luring
---
$100/84 hrs = $1.19/hr
In its latest update to the game, Niantic, has removed the "footprints" tracking feature as they update it and have shut down third-party tracking sites. The effects of these changes means that it is harder for players to track and catch Pokémon. Now players will likely rely more heavily on lure modules at Pokéstops where players already know they have a higher probability of catching more Pokémon. So for your business this means more foot traffic, and more opportunities to capture business.
John Hanke, Niantic CEO, said at San Diego Comic-Con that the current version of Pokémon Go has only 10% of the game's planned content. In the future Pokéstops may have added functionality, like being turned into Pokémon Centers, where players can heal their Pokémon. This will be yet another opportunity for your business to capture foot traffic by offering deals and specials for players healing their Pokémon. Additionally, there are still at least six "legendary" Pokémon unaccounted for, including Mewtwo, Mew, Articuno, Zapdos, and Moltres.
It's also likely that Niantic could distribute these legendary Pokémon and other new Pokémon similar to how special "event" Pokémon are distributed for the Nintendo games. In North America, for example, players visit a GameStop to get the download code for the special "event" Pokémon. If Niantic follows a similar path then perhaps your businesses may be able to offer special Pokémon to your customers, redeemable by customers physically visiting your business.
So you caught the PokéTrainers, Now What?
Great! You got new customers in your establishment and maybe you even got them to buy something. This is great news, yet will they come again? What do you know about the new customers coming into your store? What are their ages, their demographics, engagement method, or even their genders?
This is vital information, data, that is walking into your store and then walking straight out and you're letting it go! We're not the only ones questioning all this data, a thread on Reddit filled with pokémon go devs are asking the same question. Anyone can put out a lure, put up a sign saying "We have Pokémon", but Kairos can provide you with the data about the people coming in and out of your store.
Capture Foot Traffic Data with Crowd Demographics
Through Crowd Demographics we are able to collect anonymous quantitative data about your new and current customers. By placing a small camera in your store we can tell you your customers ages, gender, and how engaged they are in your store. This is data that has an infinite shelf life and it is data you especially want to collect now before Pokémon Go's fad dies out.
Understanding who your current customers are and what they like vs your new customers through Pokémon Go will help you cater to both to ensure repeat customers for both groups. Recently there was a Pokéwalk in Gainesville, FL which leveraged Facebook and Snapchat for advertising and promotion. According to event organizer, Sarim Ahmed, a senior at the University of Florida, the Snapchat geo-filter alone was viewed nearly five thousand times during the event. However, without technical integrations there are no concrete numbers to use to market around a second event and make it even more successful.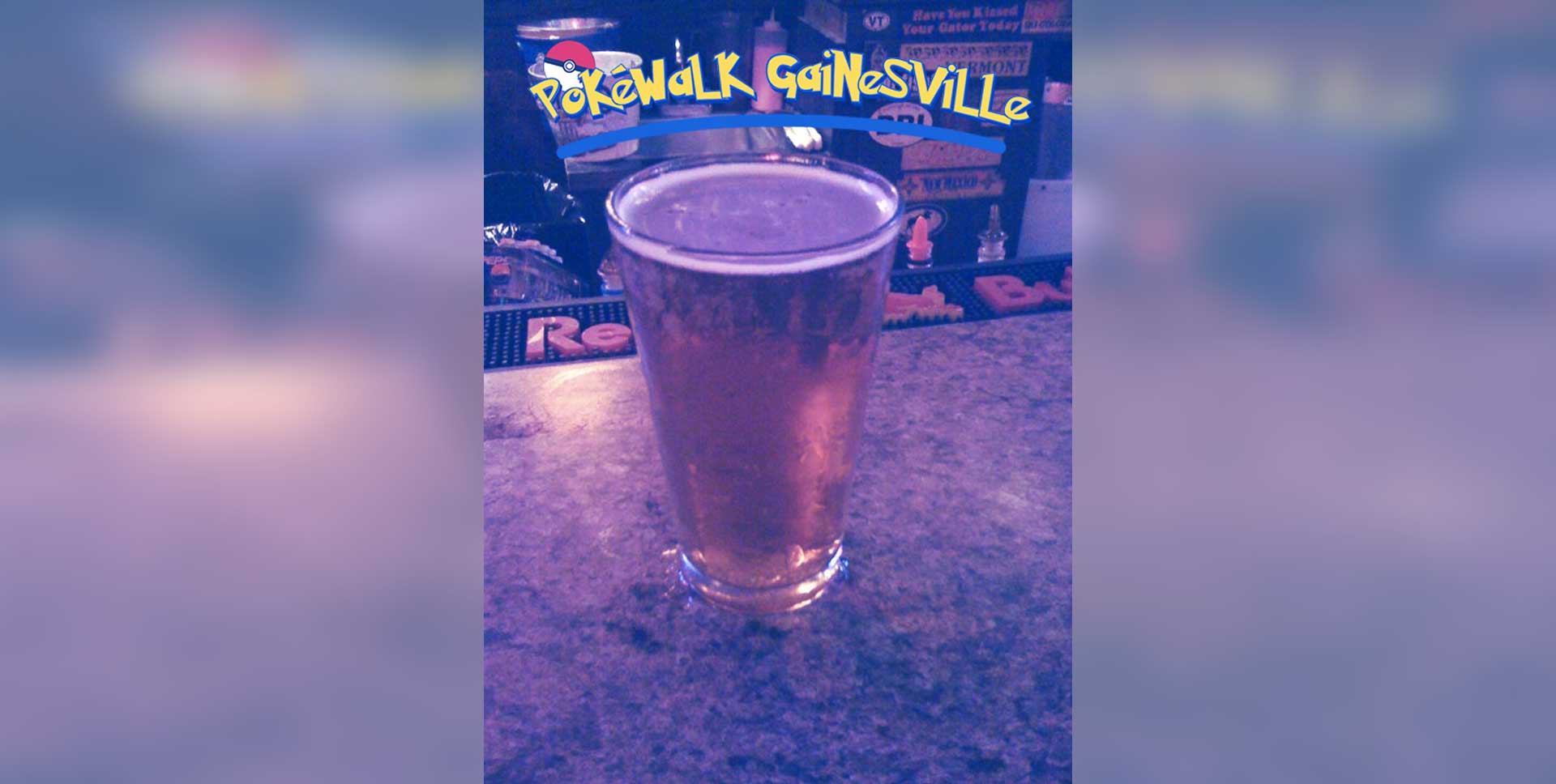 Marketing with Geo-snapchat Pokemon Filter for Beer Crawl
Kairos can tell you that exact number while also measuring foot traffic patterns around your store with Human Analytics. This is vital when using lures because you will know the best times to throw a lure. If not, you will be throwing money away as you place a lure every 30 minutes which is what most business owners seem to be doing.
If you put up signs letting customers know you have lures set up around your shop, Kairos can also tell you the engagement percentage with those signs. You will start to understand where people are looking, what they are specifically looking at on the signs, and in turn, will learn how to better serve your customers.
Advertising a Pokémon Go Event? Use Kairos' Emotion Analysis tool Project Look
Want to host a Pokémon Go event but unsure if you should advertise with a Pikachu or a Charmander? Maybe you want to throw a bar crawl but you aren't sure if you should advertise it to Team Valor, Mystic, or Instinct. You could just guess and use Pikachu and Team Mystic but if your event is a flop due to more people relating with Team Valor and Charmander, it's money that's gone forever.
Kairos can provide you with advertising data to let you know the answer to these questions.
Project Look will give you valuable emotion insight about your customers as they watch your ads. It's really that simple. We take your advertisements, moving pictures or stills, and send it to your customers with a short survey that you have created. As they watch the commercial or look through the pictures, we measure their natural emotional reactions and provide you with the data.
This biggest question Pokémon Go players have is, which team do you chose? Currently, there's no reason to chose one team over the other as no team has an upper advantage in the game. You are presented three teams with three different colors and symbols. Project Look could be used in this way to determine why people chose specific teams, which team is the most popular, and which team your business should be advertising to.
We can apply Project Look to any marketing idea that you have, it doesn't have to be Pokémon Go related. If you have a new commercial you want to air but you are not sure which celebrity or slogan you should use, Project Look can help. If you want to run an advert online but you aren't sure if you should use blue or red as your background color, Project Look is there again.
We Surveyed Pokémon Go Players to See if Lures Lead to Store Purchases
We decided to see if players really were more inclined to make purchases at stores with lures on their Pokéstops. We hit the streets of Miami with lures ready to drop and surveys ready to be completed by Pokémon Go players.
The first thing we learned was that the time of day and the amount of foot traffic in a general area matters, a lot. We went to a busy Starbucks on Biscayne Boulevard where we spotted a lure on a Pokéstop. There was absolutely no one near the lure and no one playing Pokémon Go for a solid 20 minutes. With the lure's time ending at that Pokéstop so did our time there as we realized we needed to find a spot with more foot traffic. Our next stop was Wynwood, an artsy suburb of Miami, FL, and we put out a lure near Panther Coffee. Within a few minutes we started noticing people of all ages playing around the area of our lure.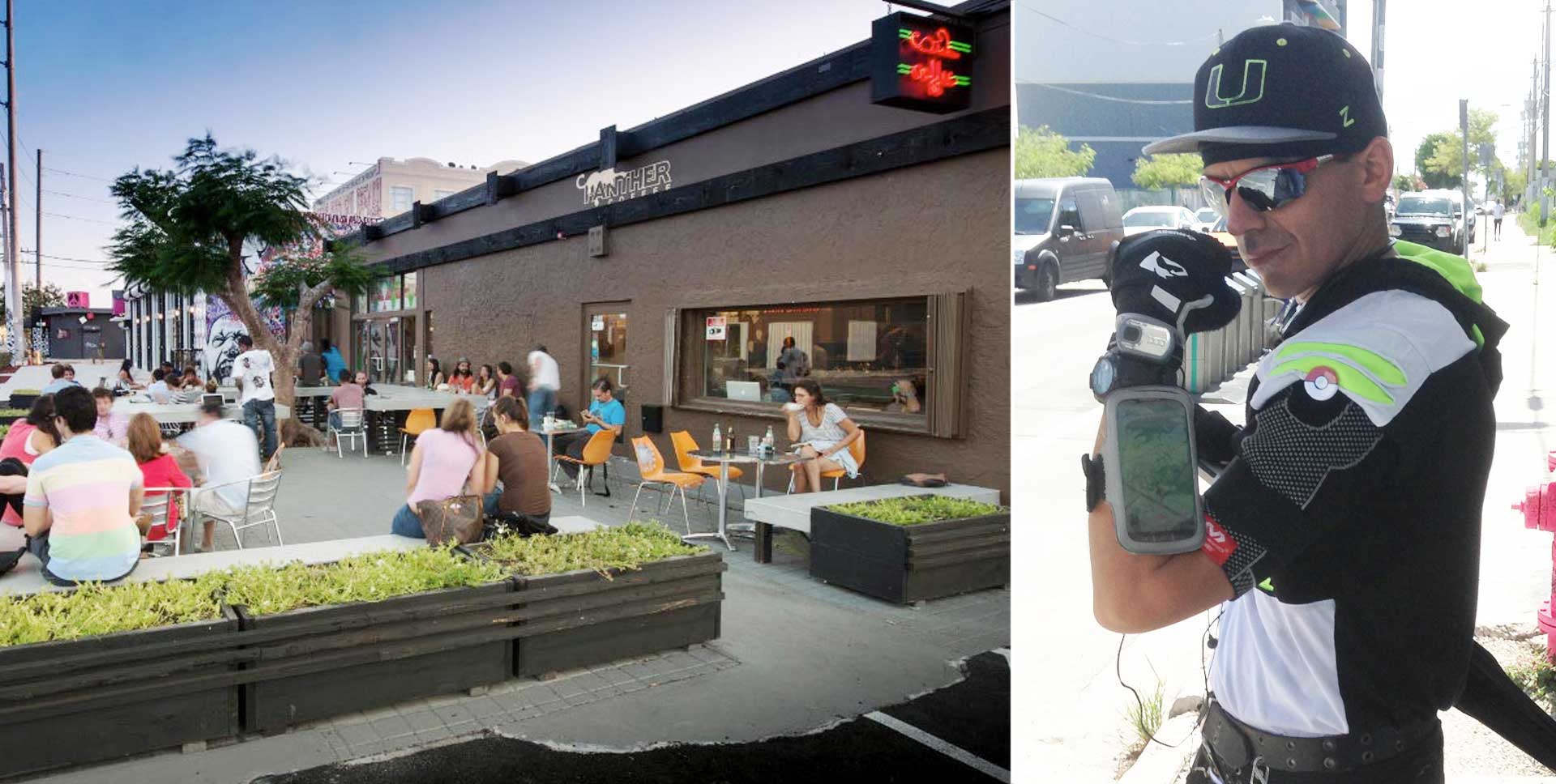 Like the legendary pokemon in the video games, in the world of Pokemon GO there are also legendary players. One such player is, Will Benitez (seen here right, with Panther Coffee on the left). Will is the creator of Cosplay Kingdom, a cosplay (costume play) studio located in the Wynwood area of Miami, FL
Our survey sample was small, but we found that most people were attracted to the specific Pokéstop because of the amount of Pokémon in that given area. This was of course due to the lure that we had set up. On average, players had been playing for at least 2 hours + that day and 89% of the players we surveyed play every single day. Surprisingly, when we asked if the players would be making purchases at the store, where the lure was, 66.7% said yes. We watched as a few went in, bought a coffee, then sat near the lure to catch Pokémon for the next 30 minutes.
For the players, that did not purchase anything they said discounts for Pokémon Go players would have enticed them to buy something.
This survey was done without any ads being placed online, without the store having a sign saying "We have a Lure out", or any discounts offered. We can imagine, for now, how much more foot traffic the store would have seen if they had the right advertisements, or had marketed an event, out to the general public.
Come See Our Tools In Action at our PokémonGo Event
So lures work, they attract players to your store and players do make purchases, but you need to have your lure out at the right time. When there is high foot traffic around your store or you need to properly advertise that you will be placing lures if your store is not in a heavy foot traffic area, which can all be done with our software.
Next week we will be having our own Pokémon Go event, at a new Miami restaurant called Alloy Bistro. We will have our tech setup so that we can measure the event. Follow us on our Facebook page to come to the event or to stay updated on our results.
EXTRA SPECIAL THANKS TO
Feras Ahmed, Kairos' resident PokémonGo expert, without whose enthusiasm and help this article would not have been possible.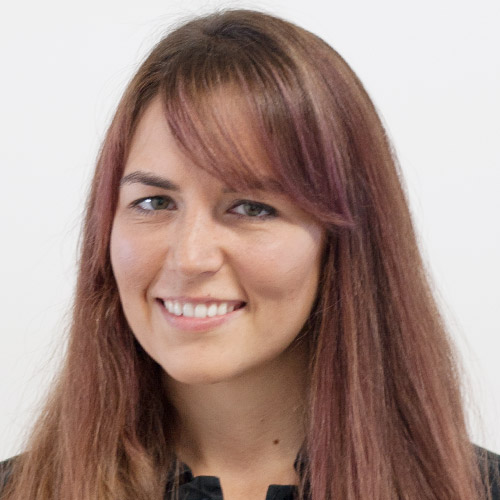 Gabriella Leone
Gabriella is the Head of Content at Kairos, a Human Analytics platform that radically changes how companies understand people.